First we have the horrible racist picture of obama with a banana...they are really milking that one...
Supposedly the female torch bearer at the lighting ceremonies once tweeted the picture, claiming it was funny, then deleted it...mmm...anyone can manipulate a picture to make someone look bad and declare they deleted it...
Remember the lefts interpretation of G.W. Bush as a chimp?
We can make it look like she did this with Bush.....easily, then claim she deleted that one also. Would the left wing media be as appalled or giggle about it?
A banana or a chimp, frankly I don't care what color these two are, they are politicians and to me it's about the policies only...
Then they are freaking out about the hammer and sickle...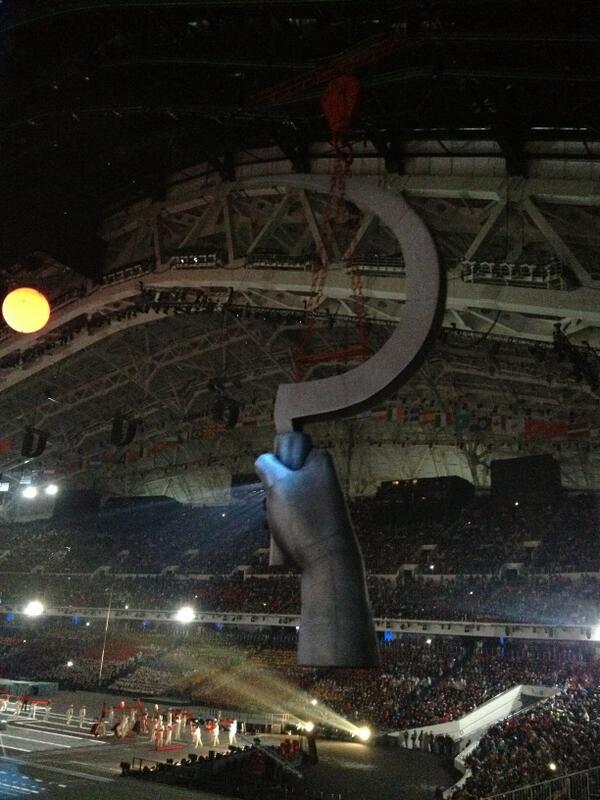 Calm down guys, at least they are not pretending 1933 to 1945 didn't exist like Germany has...they are not hoping it comes back, they are embracing their past, the good with the bad....at least they are honest about it...
I can point to worse thing that was done to the Natives people of turtle island
(aka the americas), were admitting it and correcting it seems to be hard....
Then all day the media is pointing to one of the Olympic rings didn't light up...Jezz, the world is coming to an end now...
It's as if the western media is directing sheoples to hate the Russians...laugh at them.
All Olympics one way or another had faults,,,yet oh those bad Russians...
Am I pro-Russian, hell no...
I'm from Canada....
I hate propaganda, it promotes hate and risks starting wars...
Anyone who has seen war, is dead set against it....and propaganda is always the first path to it...