A book advising newly-wed women on how to be "submissive" has
become a publishing phenomenon in Spain
while outraging
feminists who have called for it to be banned.
The book by married Italian author Costanza Miriano titled 'Cásate y sé sumisa – Get Married and Be Submissive – was published by the Catholic Arbishopric of the southern city of Granada in November and soared up the bestseller list.
The book, which was a bestseller in Italy, preaches a message of "loyal obedience, generosity and submission" on the part of the new wife and offers nuggets of advice for the newly-wed on how to please one's husband.
The book currently appears at
number 15 on the Amazon bestseller list in Spain
but has raised the hackles of modern-minded Senoras who even staged a public demonstration against the tome,
where they tore up copies.
Women's groups are considering legal action to
get it banned arguing that it promotes gender violence.
One passage suggests: "We [women] like humiliation because it is for a greater good."
The author claims the book is based on the teachings of St Paul and that a perfect wife should be submissive.
"It's true, you're not yet an experienced cook or a perfect housewife," she writes. "What's the problem if he tells you so? Tell him that he is right, that it's true, that you will learn. On seeing your sweetness and your humility, your effort to change, this will also change him.
-----------------------------------
OK, now that every feminist has had a change of underwear, it is not about the book itself. The thing is freedom of choice, and it certainly does not promote violence against women, this is illegal and women have plenty of avenue to follow if this happens...
The problem I have with the "banning of book" is this...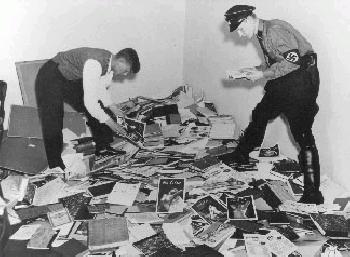 BANNING books is extremely dangerous, it is how the Nazis BEGAN, it EVOLVED in burning and ENDED, as we all know, really bad.
You don't agree with the writer, don't like the book? fine, "DON'T BUY IT".....It's called free to choose....and respecting the freedom of choice...
If this specific book, became a phenomenon in Spain and Italy, there is a reason, and that is some of the Ladies liked it and do not like the path feminism has decided to take them towards, namely,
man hating. Whatever reason it is so popular, the point it freedom of choice, and this should never be decided by the few...
We cannot achieve tolerance in society by showing intolerance for different points of views and values.
FEMINAZIS....gives a brand new meaning to that name now...doesn't it?
For your viewing pleasure...here is a contradiction in term...taken from a feminism website...
So much for their beliefs in accepting those who think differently.
Don't like a book? Burn and ban?